*disclaimer - this is a long post...but I had alot to write about*
I finally have a little time to sit down and write about last weekend. Mom, Kadee, Alexis and Alissa came to Georgia for a visit. We had so much fun while they were here, plus while they were visiting it was also time for the Cherry Blossom Festival. Here is the breakdown of their visit.
Thursday:
They got in about 7:00 pm, we just grabbed something to eat and headed back home. The girls were fascinated by my garden tub and couldn't wait to get in and take a bath, who knew? After that Lexi was anxious to teach Uncle Heath how to play the Wii
Friday:
We got up and went to get some lunch, then ran by Walmart to grab a few things. Then we met my mother-in-law and sister-in-law and my Georgia nieces at Monkey Joe's so the girls could play together. (Lexi had visited me last year and remembered them, she couldn't wait to see them again.) Monkey Joe's is really just a big open space with all those big blow up things for kids to play on and they have a place for the adults to sit and watch. The girls loved it. Ashlynn and Alyssa came home with my mother-in-law to spend the night so they could play more. By Friday night the girls were exhausted. Later that night Heath, Kadee and I played some Wii golf and we got Heath addicted. Heath also taught 3yr old Alissa the love catch phrase "In yo face!" Which she felt the need to use quite frequently of the next few days.
Some of My Favorite Monkey's at Monkey Joe's
This pic makes me laugh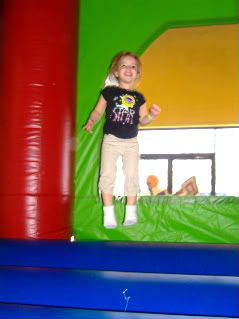 Alissa at M.J.'s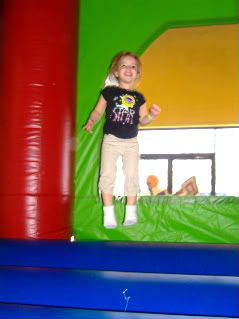 Saturday:
I had to work for a little while in the morning. They spent the morning playing outside and enjoying the amazing weather. After I got home we got ready and headed to the Balloon Glow, one of the most popular Cherry Blossom Events. If you have never been to a balloon glow it is very pretty. They line up hot air balloons at dusk and light them at various intervals, making for a beautiful light show. We were really hungry when we left, and couldn't wait to get home to eat. One of my favorite Alissa lines of the weekend was that night....she said "My tummy's in my froat" She was trying to tell us she was STARVING! So funny!
Waiting for it to get dark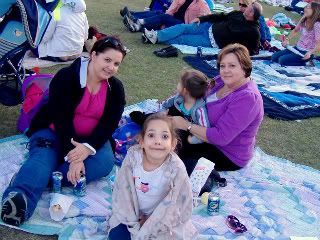 Yummy, Blue Raspberry
Getting the Ballons Ready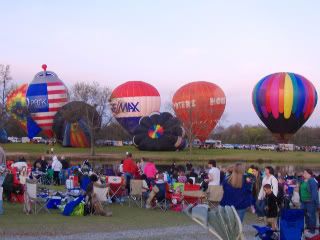 Here we Glow!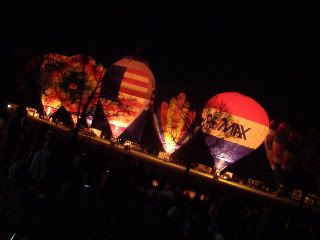 Sunday:
We spent the majority of the day at the Cherry Blossom Festival. The weather was so amazing. Heath came with us for a little while before he had to go to work. We ate great food, heard some great music, watched the sea lion show, and the girls rode some rides. Yes, we wore pink. Oh, I almost forgot, we had pink Margaritas! Yum! That night we just relaxed at the house and I cooked dinner. After dinner I made Chocolate Chip Bread Pudding, with the girls help of course. Let me just say this is an AMAZING dessert. Email me if you want the recipe.
Beautiful Cherry Blossoms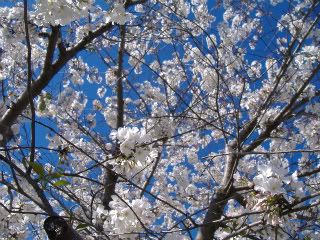 Mom, Heath and I in the Park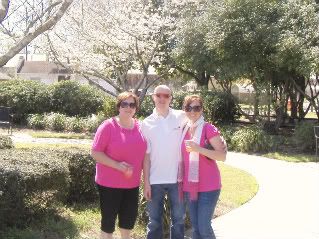 Playing some games
Grammy and Alissa on the Carosel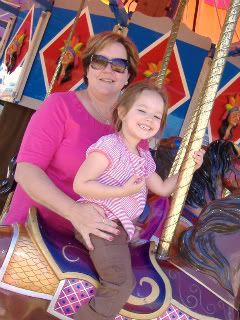 Hitchin' a ride on Nemo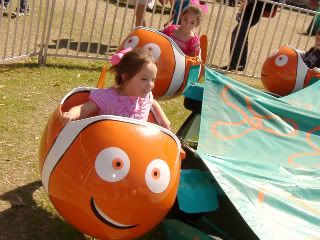 Me and My Honey in the Big Pink Chair!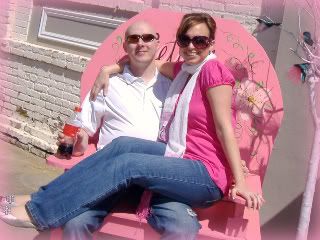 Monday:
It was time for them to head home so we drove them to Atlanta but they didn't have to leave until late that night. So, we went in time to visit the Georgia Aquarium. The aquarium was awesome. I cannot even begin to describe how nice it is. We saw so many different fish and other water based creatures. When we left there we took a short trip through the World of Coca Cola and then finished up the Atlanta experience with a stop a The Varsity, an Atlanta must! We had chili dogs, fries, onion rings and ice cream. I wish I could let you taste just how good one of these chili dogs is. If you are ever in Atlanta you must stop here!!! We dropped them off at the airport and then headed back home. I was sad to see them go but we had an amazing time while they were here!


Heath and I in Coral Reef Room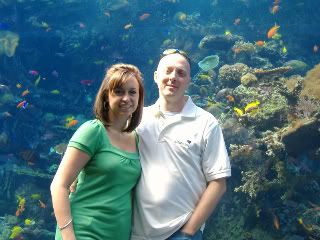 The Ocean Explorer Tunnel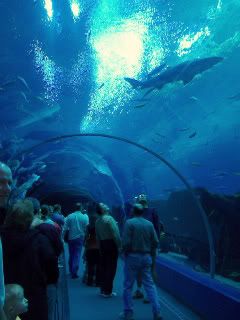 Checking it out.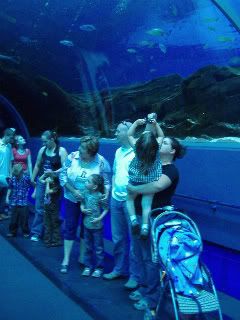 A little view of Atlanta



I love this pic!